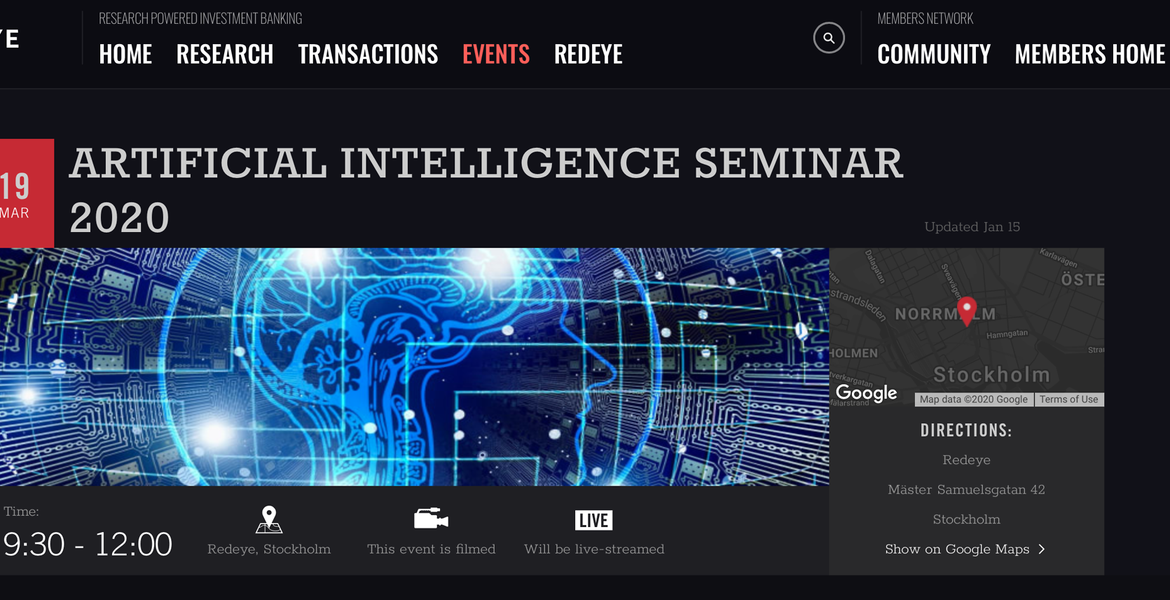 Redeye - Artificial Intelligence Seminar 2020
September 17, 2020 - Redeye, Stockholm


Redeye holds a seminar on the topic of artificial Intelligence (AI). The event is broadcasted live on the Redeye website.


Redeye will start to give a very short overview of trends/valuation/estimates in AI before Anders Arpteg from one of the hottest AI-companies, PELTARION, gives a more comprehensive introduction to the subject. Fredrik Heintz, ass. professor LiU will present THE WALLENBERG ARTIFICIAL INTELLIGENCE, AUTONOMOUS SYSTEMS AND SOFTWARE PROGRAM (WASP), an investment of SEK 5.5 billion during the 14 years of the programme. After that, two exciting unlisted companies IMAGIMOB and CAPTARIO will present their businesses followed by a panel discussion.

Before a short break, EQT VENTURES will talk about Motherbrain. This is a platform-wide initiative leveraging data and machine learning for recommendations on new deals, add-on acquisitions, market analysis and industry trends.

The final block will include presentations from four leading listed companies in AI: ERICSSON, MYCRONIC, OPTOMED and ARTIFICIAL SOLUTIONS. This is concluded with a short panel discussion with the listed companies. Lunch is then served at Redeye premises.


Imagimob will speak at the event.