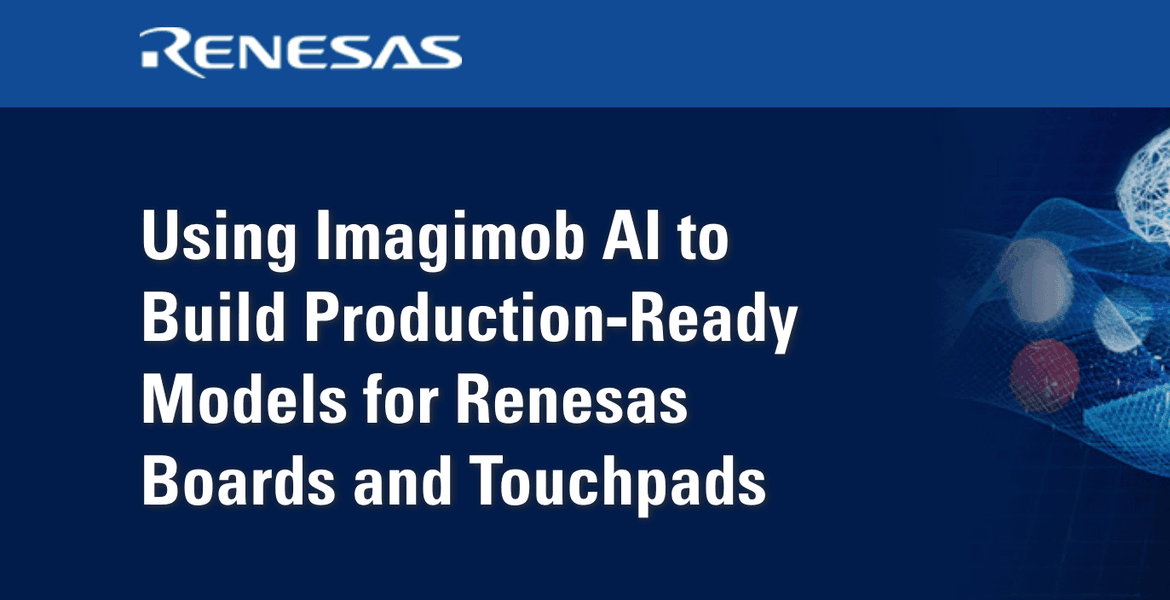 Imagimob Selected as Renesas' "Partner of the Month" to boost tinyML
Renesas have selected Imagimob as "Partner of the Month" within the Renesas Ready Partner Program. Renesas and Imagimob have worked together for over nine months integrating the Imagimob AI development platform for machine learning on embedded devices with Renesas' RA family of MCUs. As part of the collaboration, Imagimob AI now includes a starter project for the Renesas EK-RA2L1 board, enabling customers to quickly develop AI models.

The two companies has launched an on-demand webinar as part of Renesas strategy to highlight partners in their ecosystem that can contribute to increased business value to its customers. The webinar explains how to develop a tinyML application using Imagimob AI for understanding written characters on a Renesas Capacitive Touchpad. The webinar will be hosted on the Renesas webinar platform and is available here.

The parties are also working together to integrate and strengthen their joint offering to the tinyML market with two separate software package developments that will be commercially available in April 2022:


A plug-in now in development for the Renesas e2 studio software will allow users to configure any Renesas device to output data in the correct format to integrate with Imagimob AI, which can then synchronize it with a video that acts as metadata. The video can be used for data analysis, labelling purposes and model evaluation. This solution will allow any sensor or board to supply ready-to-use data for Imagimob AI.
A software package for deploying models into firmware will enable C code generated for the model to be compiled by a script, linked with the pre-compiled firmware, and then automatically flashed onto the device. With a simple click the model is deployed onto the device.

Imagimob will demonstrate Imagimob AI with support for Renesas solutions at tinyML Summit 2022 that is held in San Francisco on March 28-30.

Contact:
Imagimob: Anders Hardebring, CEO and Co-founder, email: anders@imagimob.com, phone: +46 705910614
Renesas: Thomas Kellerman, Business Development Manager MCU, email: Thomas.kellerman@renesas.com, phone: +49 160 7437292

About Renesas Electronics Corporation
Renesas Electronics Corporation delivers trusted embedded design innovation with complete semiconductor solutions that enable billions of connected, intelligent devices to enhance the way people work and live. A global leader in microcontrollers, analog, power, and SoC products, Renesas provides comprehensive solutions for a broad range of automotive, industrial, infrastructure, and IoT applications that help shape a limitless future. Learn more at www.renesas.com.

About Imagimob
Imagimob is a fast growing startup driving innovation at the forefront of Edge AI and tinyML—and enabling the intelligent products of the future. Based in Stockholm, Sweden, the company has been serving global customers within the automotive, manufacturing, healthcare, and lifestyle industries since 2013. In 2020, Imagimob launched Imagimob AI – a development platform for machine learning on edge devices. Imagimob AI guides and empowers users throughout the entire development journey, resulting in game-changing productivity and faster time-to-market. Learn more at www.imagimob.com